Hey Animated World!
I hope you all have had the greatest of holidays and wish you all the best in 2018!
Back in 2016 I started off the year on Animated by sharing a few quotes I was going to keep myself to during the new year. For 2017, I detailed the specific goals I was going to work toward on Animated. Now for 2018, I'm taking a little bit of each from the previous two years.
Rather than sharing a few different quotes and goals, I decided on a character and motto for Animated in 2018. Sort of like a mascot and quote to represent my resolutions and goals in 2018.
I've become quite a Fate fanatic over the last few months. My favorite character from the series has become the ruler servant from Fate Apocrypha, Jeanne D'Arc. She's pretty much the reason I'm still trying to complete Fate Extella.  I like her character in the Fate series, but what draws me to her character is the heroic spirit she represents. The heroic spirits are my favorite part of the Fate series. Jeanne D'Arc is based off of Saint Joan of Arc. (Although in French she's referred to as Jeanne D'Arc hence the name taken by the character in the anime.) After watching a Fate anime or playing Fate Extella, I always like to do some research on the heroic spirit each character represents. After watching the first half of Fate Apocrypha, Jeanne D'Arc really intrigued me. Mainly because I made the connection that in Fate/Zero the caster servant refers to her as his lover. Caster was based off Gilles de Rais who fought alongside Joan of Arc, but was later convicted of many crimes. (I really don't want to get into specifics.) Any who, as you can see this Joan's story caught my interest.
Well turns out for Christmas, I received a Joan of Arc pennant. I now wear the pendant everyday and I think it is the coolest gift.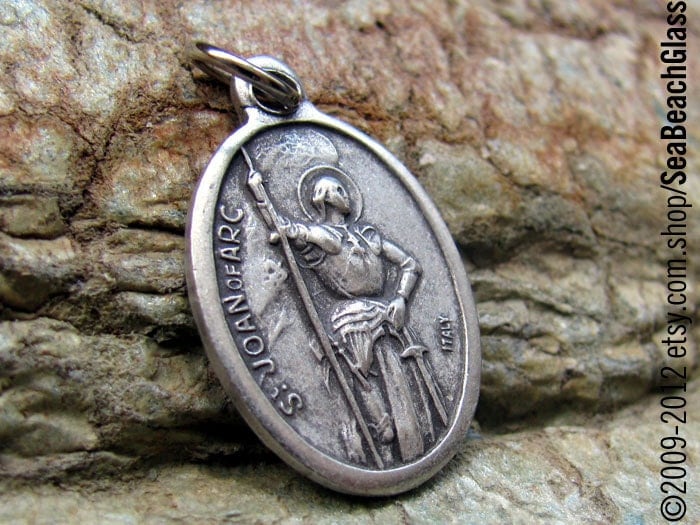 Not the exact one I received by their pretty much the same. 
Noticing my interest in the saint, my sibling also gave me a sign for my room with one of Joan's famous quotes:
You can probably guess it, but I was a pretty happy camper Christmas morning. It was so neat to see in a way the anime world and the real world kind of coming together in a way. Not to mention, this quote was perfect for me.
2017 was a good year for me. Not overly great, and not bad. One thing I really want to work on in 2018 is to stop second guessing myself or submitting to self doubt. Something I'm sure we all deal with one way or another.  I thought quote fit perfectly with what I wanted to achieve in the new year. The pendant and sign serve as a great reminder to always be thinking about not letting fear in. So with all this, I wanted to make this the motto for Animated in 2018. Basically she's telling you, "chill, stop second guessing yourself, you got this!" I think it is a great motto to have for the new year that can put you in a positive mind set. So with the motto, Jeanne D'Arc will also be Animated's character for the year. First character to be named such. She's already been given her very own character header.
She will also be the first character for the weeks featured for the month of January! I'm going to be bringing back that series as well for 2018.
Any who, hopefully motto this serves as some positive motivation to start off 2018 on the right foot! Time to get that self confidence flowing in 2018! 🙂
-Animated